Angie P Coaching & Mentoring
Home
&nbspAngie P Coaching & Mentoring
Angie's passion as an executive coach and mentor is to facilitate people's transformation and accelerate their growth and development as a leader. She is an excellent listener and communicator and has a remarkable ability to see things from the other perspective. Through her personalised approach to coaching, she works with people to unlock their potential and enhance their performance. She inspires leaders to step up.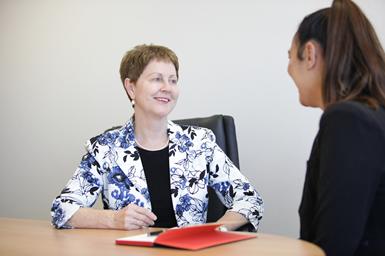 Angie assists:
C-Suite executives and aspiring C-Suite executives
Leaders and aspiring leaders
Boards working with CEOs
First time CEOs
Women in leadership
Business owners and Founders
Leaders in transition
High potential employees
Angie's approach:
"Good leaders are aware of who they are, what's important to them and what matters most. I believe leadership is about who you are, not what you do."
From making a difference to the individual, to transforming entire organisations, Angie's approach involves:
A strategic perspective to business development.
Connecting with people, finding out who they are and what drives them. Angie is committed to the belief that as a leader you need to know yourself and be yourself first
Helping people achieve their potential and in turn, contributing to business growth and performance
Moving beyond potential barriers and challenges with a 'can do' attitude
One of Angie's areas of specialisation is working with C-Suite and aspiring C-Suite executives. Her unique, customised approach focuses on the key areas of PLANNING, PREPARATION and PERFORMANCE
PLANNING
Planning for your C-Suite journey – For aspiring executives
PREPARATION
Preparing for your C-Suite journey – Navigating the first 90 days
PERFORMANCE
Performing in your C-Suite role – Being the best you can be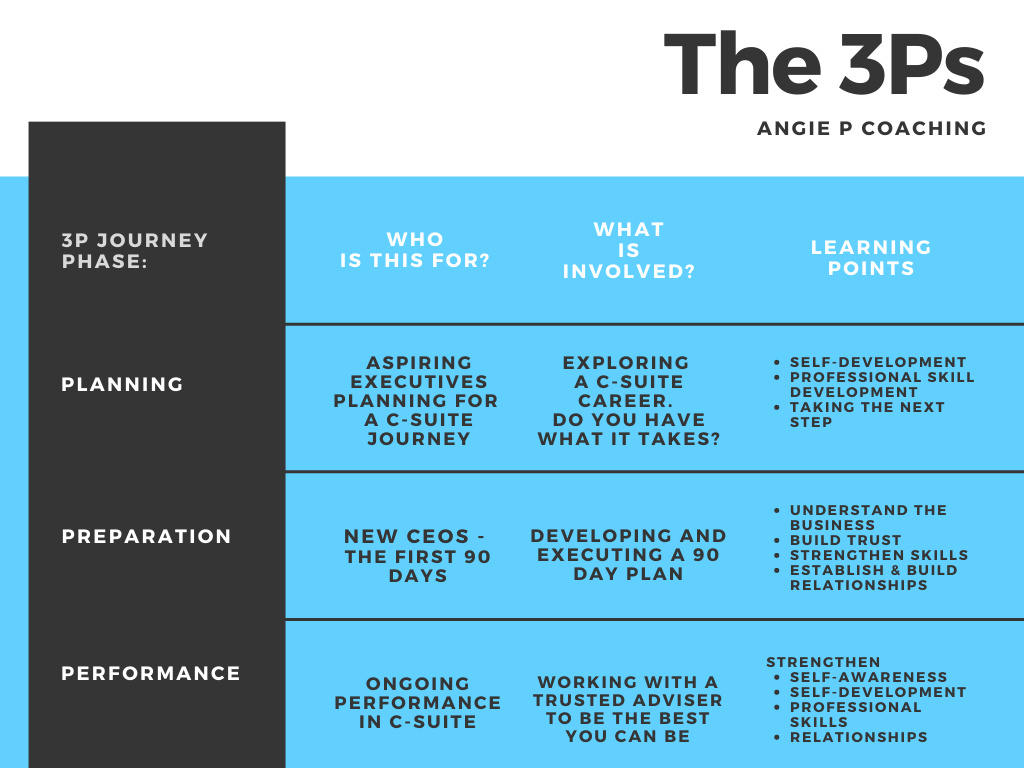 Contact Angie for an initial coffee meeting to discuss how she can assist you as a coach and mentor to achieve your potential.
"Be yourself. Everyone else is taken"
Angie's coaching and mentoring clients achieve results
Testimonials
Angie fosters a relaxed and engaging professional discussion that is refreshing and inspiring.  She has wealth of knowledge and experience that helps to identify core issues and she provides well-rounded counsel with an executive focus.  I enjoyed our professional engagement which I feel has built a foundation that will be sustained for years to come. For anyone looking to refine and focus their effectiveness, Angie comes highly recommended. – Assistant Director, Commonwealth Government
Angie is an inspiring leader and coach. She has a wealth of knowledge, and has an authentic approach to understanding and guiding me. Angie has made a remarkable impact on my personal and professional life by supporting me in finding my purpose and amplifying the social impact I hope to create.  I am truly grateful for the opportunity to work with Angie, and I highly recommend her as a coach and leader. – CEO, Health Empower Australia
I started Executive Coaching with Angie Paskevicius through a recommendation from a valued work colleague. At that time I was seeking direction and grounding in my leadership journey as I strived for new career opportunities and challenges. Coaching was a new experience for me and Angie's reflective style allowed me to move flexibly towards my self-directed goals whilst keeping me accountable and focussed. Angie's willingness to share her extensive knowledge and learnings from her lived experience as a quiet and highly effective leader were invaluable to me in consolidating and strengthening my own approach. Through Angie's guidance I was able to increase my confidence and become a more authentic leader, which was confirmed in the feedback I received from my team over the period of coaching. Angie was always responsive, going above and beyond to support me in achieving my goals which ultimately saw me securing a new senior leadership position. I highly value my ongoing connection with Angie and am confident I will continue to benefit from this for years to come.  – Jo, Operations Executive
Angie and I worked together to create a more sustainable business model for my not-for-profit. We met regularly and discussed challenges my organisation was facing at that time. In our discussions we developed new ideas for generating an income to better sustain our youth programs. Angie then followed up on my progress and offered feedback and support to ensure we were a success. I benefitted greatly from having Angie as my mentor. She comes with a world of knowledge and experience and offered insight into generating an income from our charitable activities, so that we are not so reliant on donations.  Angie supported me in creating a new income stream for our charity. This has allowed us to reinvest into new mental health and suicide prevention programs.  I now aspire to run our organisation as more of a business with a charitable purpose, which will ensure our charity flourishes and is not impacted greatly by a change in economic times. Angie is an extremely astute business professional and she always made me feel comfortable and provided a valuable sounding board. I knew that what we discussed would stay between us. She is both nurturing and has challenged my thinking, at the same time. – Ashlee, CEO
Angie is a good listener and communicator, and was a great sounding board both professionally and personally. She always made me feel very relaxed to talk and I always looked forward to our coaching sessions – her passion and values comes through. – Jenny, National Operations Manager
Enquire about booking Angie as your coach and mentor